Create, Discover and Download Content
When it comes to the modding community there's always some form of a idea for custom created content and sometimes there none, but with the rise of Steam Workshop the user created content has become a great place to go even long after your done playing the game.
With Steam Workshop it got so easy and simple to create and publish your on custom maps or levels, that this page is fully dedicated to custom created content I publish to the Steam's Workshop, that's of course if the game supports Steam Workshop or that's worthy of creating custom content for. I remember the very first time trying to create a custom level for Command and Conquer Generals, that there were so many toolbars and settings it never work out, no matter how hard I continued on I would just keep receiving errors.
So with Steam Workshop you can get even more bang for the buck when the developers support steam's workshop feature. It's not for everyone but for the ones that have an idea or enjoy creating new content, then this is the place to begin, even when the developers are on board, because they are really supportive when it comes to the community when they request such features to be include in their IP.
If you enjoyed any of the custom content below feel to drop a packet very blue moon, as there could be newer content, again that's of course you have or like that particular game. Until then don't give up on your vision and seen it through till the end no matter what, and don't forget there's more people out their in the wild, ask the community if your having trouble creating that custom map or level.
Portal 2
To download Phoney's Chamber of Doom simply fire up Steam, visit the workshop and click subscribe that's it. When finished playing leave your thoughts in the comments below and don't forget to Rate, because you know we all love stars. If you have a questions or tips trow up an invite on Steam or scroll down and click email PhoneyVirus.
Who hasn't played Portal, from hardcore to casual gamers everyone has seen this game no matter what they play. Portal one was done alright but was lacking what Portal 2 has to offer, from playing with friends to creating custom levels to downloading other players maps. When first looking at the Portal 2's workshop and
seen how many user created levels there were was just crazy, let's say you wouldn't need to buy another game for a very long time. With all that taking place I had to get in on the action and leave a mark, so with that said when I was done playing Portal 2 co-op with the younger bother, I fired up the editor for the very first time and jumped right in. When coming back out I must of logged twenty+ hours just alone in the map editor and this is what I managed to trow together in that mount of time of creating, tweaking and testing etc.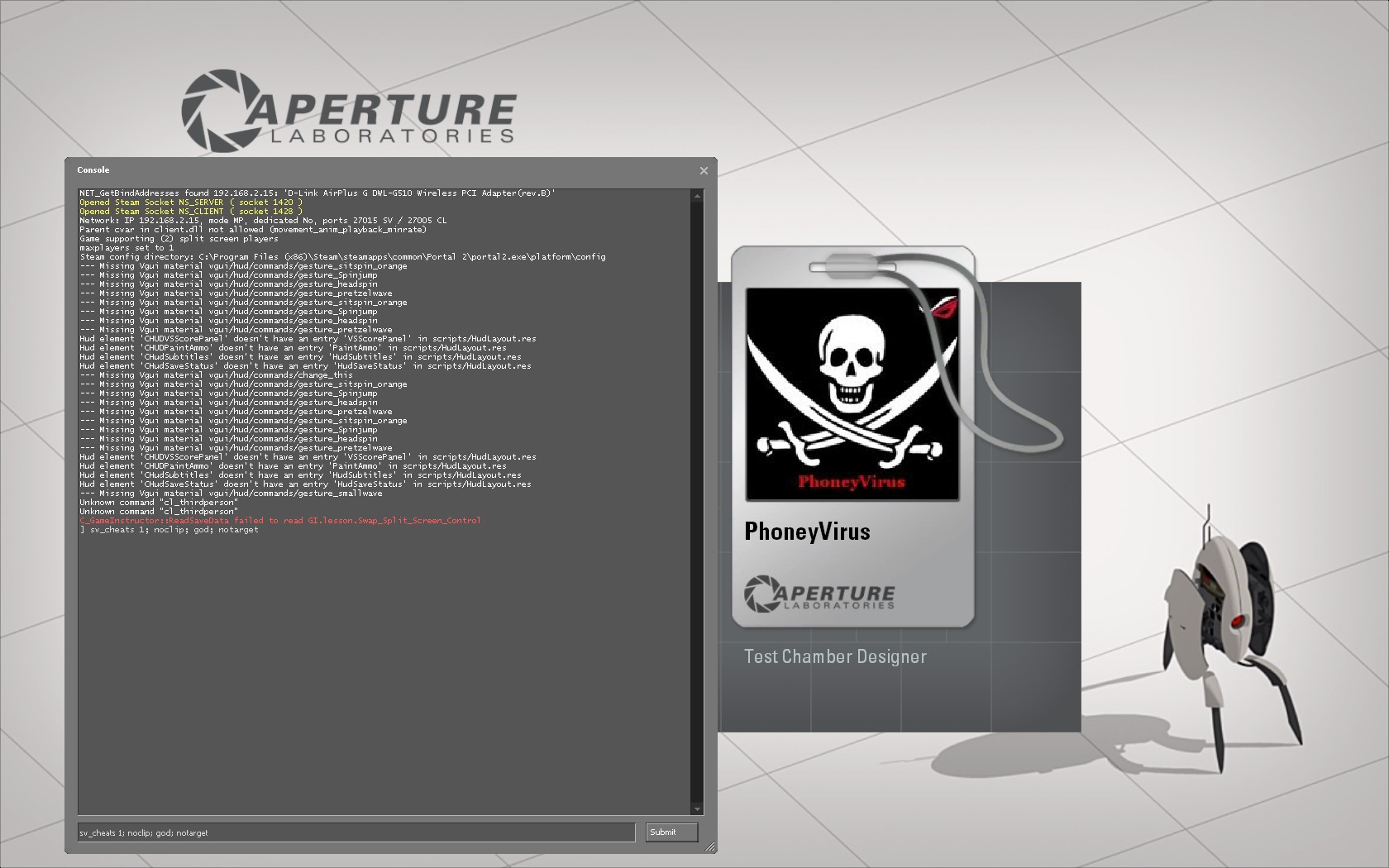 If you subscribed to the map and liked the idea of creating your own feel free to checkout the Console Commands, because your going to need it. You may also wanna read the comments from the community as there are some tips to be found that could be useful or just fun to see.
---